History and Symbolism Behind the May Birthstone – Emerald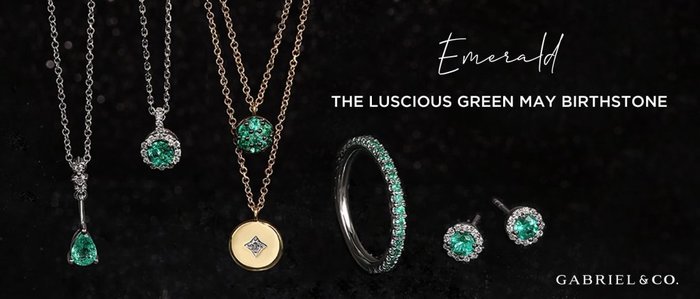 A kind heart accompanied by an earnest mind defines the woman born in May. With Taurus as their ruling sun sign, they are a powerhouse of motivation and a delight to be around. The impressive persona that a May-born woman bears, she deserves a birthstone just as warm to resonate with her compassionate personality. Dear readers, allow us to present to you the very magnificent – Emerald.
What makes Emerald Special as the May Birthstone?
Derived from the word "smaragdus," which translates to "green" in Greek, emerald is associated with spring and summer, the seasons that usher revival of life. Ruled by mercury, emerald, with its intense and enchanting green hue, is the perfect emblematic gem for those who marked their cosmic arrival in May. The precious gem signifies reincarnation. As a birthstone, emerald is believed to enrich the May-born with foresight, bless them with everlasting youth, and shower them with good fortune.
The Enthralling History of the Emerald Gemstone
The mysterious green crystal was first mined in 330 BC; the oldest emeralds are estimated to be 2.97 billion years old. With time, it became known as emerald and struck as an instant favorite of Cleopatra, the queen of Egypt, where the gem was mined since its discovery. The queen cherished the emerald so dearly that she claimed absolute ownership of all the emerald mines in her land throughout her reign. The Egyptians used the gem in embellished jewelry as well as ornate burials. It was common to bury tons of emeralds with monarchs to offer protection.
While Egyptians generously indulged with their emeralds, the Muzo Indians of Colombia kept their rich emerald mines hidden from the world for the longest time. The Spanish could reach these mines after only a twenty-year-long ordeal.
The gem has been looked upon with great reverence by different cultures and communities over the eons. According to the ancient Romans, the emerald symbolized Venus, the Goddess of beauty and love. People in the Middle Ages started to believe that the emerald could predict the future. Interestingly, it graduated as a symbol of the resurrection of Christ for the early Christians.
For its intense and gorgeous green color, the emerald has been a gem treasured by the royal and the rich for centuries. A rock often encrusted on statement jewelry pieces meant to be flashed at significant events, the spectacular emerald is just as at home in a humble pair of earrings as in an extravagant bangle.
The Stunning Emerald Jewelry Collection at Gabriel & Co.
At Gabriel & Co., we have for you the humble, the extravagant, and everything in between – a full spectrum of gorgeous emerald jewelry, if we may say.
1. With its 14k white gold band, this classic and captivating promise ring is one of the most desired gifts for the headstrong Taurus lady. Secured with four prongs and surrounded by a halo of scintillating diamonds, the lush green emerald, resonating with the mystery of the Amazon, sits as an inviting centerpiece. The soothing green is a pleasing deviation from the usual diamond rings. This ring translates into exceptional daily wear despite the air of unusual uniqueness. It takes your style quotient up by several notches when you accessorize your formal look with this green bling. 
2. This white gold ring boasts a trio of marquise-cut emeralds set between accented rows swanked by a series of splendid diamonds. The striking emeralds line up in an intriguing spectacle while the 0.45ct pavé diamond-laden twists elevate the ring's appeal, transforming it into a magnificent piece of jewelry coveted by all. It is safe to say that we are not overestimating the appeal of this 14K White Gold Twisted Diamond Rows and Emerald Marquise Stones Ring by claiming that nothing makes for a perfect birthday gift for a May-born enchantress like this charmer.
3. The May birthstone necklace, bejeweled with an exquisite round cut emerald held with a set of delicate prongs, is bristling with elegance. A halo of gleaming diamonds nestles the flamboyant rock within. Slipped into a sleek white gold chain, this minimalist necklace is a must-have item in the wardrobe of a contemporary fashionista. The beauty of this no-fuss jewelry piece is that it breaks the monotony of any look and adds a spark even in the most mundane outfits. As birthstone jewelry, when styled with smart casuals or business suits in shades of grey for a crucial meeting, this piece heightens your command and influence over your audience.
4. We pride ourselves in presenting this exclusive 14k white gold jewelry piece crafted for the strong-willed and determined queen that blows out the candles in May. Embellished with the effervescent emerald in a pear shape, the luxuriant pendant is guarded by a string of ornate diamonds, which wins the attention of its spectator in a heartbeat. Suspended from a classic cable chain that enhances the jewelry with its perpetual allure, this piece of birthstone jewelry is second to none when worn to a lavish evening or night event. The best way to style this exquisite necklace is to team it with an off-shoulder silk gown, preferably in the shade of nude, featuring a timeless sweetheart neckline.
5. This May birthstone bangle is the most apposite jewelry for the beauty who prefers her accessories to be graceful without being overbearing. The white gold band of the bangle seamlessly sunders into fine streams of riveting emeralds. The dazzling jewels, perfectly laced onto the metal, create the illusion of having the African rainforests wrapped around your wrist. We won't deceive you into believing that this is for everyday wear. This bangle is indeed a chosen piece of ornament meant for a special occasion – the wedding of a loved one, an anniversary dinner, or a big day at work? This bangle will add every bit of the extra sparkle you need to stand out in the crowd.
Next on our list are some basic pieces of birthstone jewelry. These mesmerizing earrings are essential jewelry that will suit and fascinate every May girl. Earrings are the kind of jewelry that pulls even those who are otherwise not into jewelry at all. No one can escape the timeless lure of a tiny pair of dazzling studs. The awe-inspiring diamond and emerald combination of these studs is what fairy tales are made of.
6. The first pair has a vivid green 0.28ct round cut emerald, bestowed with a halo of well-defined 0.24cts round cut diamonds. Each of these diamonds, secured with prominent prongs, endows the jewelry with an arresting charm. This brilliant pair of emerald studs is the one you ought to spoil yourself with, to mark a remarkable achievement – be it a new job or a long-due promotion.
7. Further, with its subtle glamour, the latter blends in effortlessly with its surrounding. The faint-colored diamonds of its coy halo merge as one with the salient round cut emeralds. It is the perfect gift for a young lady at her graduation.
While being resolute, a May-born lady is also reassuring and cordial. She loves with an open heart and sends bursts of kindness to the universe, and becomes elated upon receiving over pouring affection. The compassionate and confident queen is a reservoir of hope—no wonder the color of prosperity and abundance is the color of her birthstone. If you are lucky enough to have a May-born in your life, get her a birthstone jewelry piece by Gabriel & Co.; our eclectic collection of emeralds will be grateful to be gracing her infinite aura.
Be the first to comment...